The brainchild of two friends who wanted to create nontoxic, biodegradable natural cleaning products that still look and smell good, Method Products was born in 2000, quickly expanding to the UK and Canada in 2005.
In 2012, Method Products joined the Ecover Group, a global organisation focused on sustainability. Ecover and Method Products now form the world's largest green cleaning products company by sales.
As a fellow B Corporation, we closely identify with method's Business for Good ethos, which is aligned with our own commitment to having a positive impact on the world.
We've been working closely with the method team for more than three years now, partnering up on several product campaigns. We really love creating designs that showcase their gorgeous eco-friendly products that look and smell delicious and, importantly, actually work (yes, we do use them!).
visit website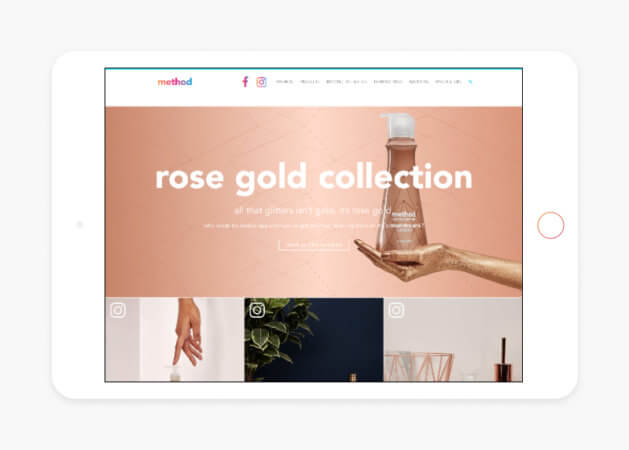 The Brief
We started working with method when they were just expanding into Europe and needed a website for the UK and other countries. A theme for the method USA website was ready, but this wasn't compatible with a multisite installation. They need help to address this as quickly as possible, to meet their existing deadline.
Our Approach
WordPress Multiuser (WPMU). WordPress Website Development. Multi-language website. Hosting Support. Maintenance
Our team worked fast to provide a solution, which was achieved by converting the provided theme to a multi-user installation. We then made sure the site could support multiple languages by adding the the WordPress multilingual plugin (WPML).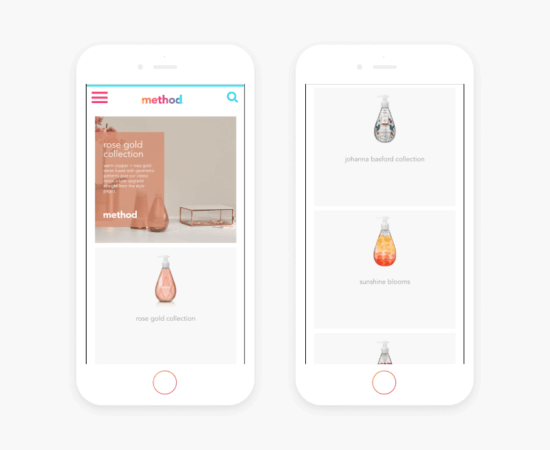 The Results!
We launched the method site in record time, with all of the changes implemented. Since we completed this initial website, we have developed a strong ongoing relationship with method, providing ongoing support, and working on several exciting projects, all detailed below.
Partnership
We have worked together with Method on some amazing projects!
Rose Gold
Our latest collaborative project was to create a page for the brand new Rose Gold collection, which raises the status of household cleaning products to gorgeous household accessories.
Designed to complement the 'hot' materials of 2018, the Rose Gold collection is a touch of luxury with a practical application. And, of course, it has the naturally derived, gorgeous smelling ingredients that method customers know and love.
For this campaign we kept the design simple, extending the stunning design of this range to the website page. We added subtle animation to the homepage, ensuring that the product design for this range takes centre stage.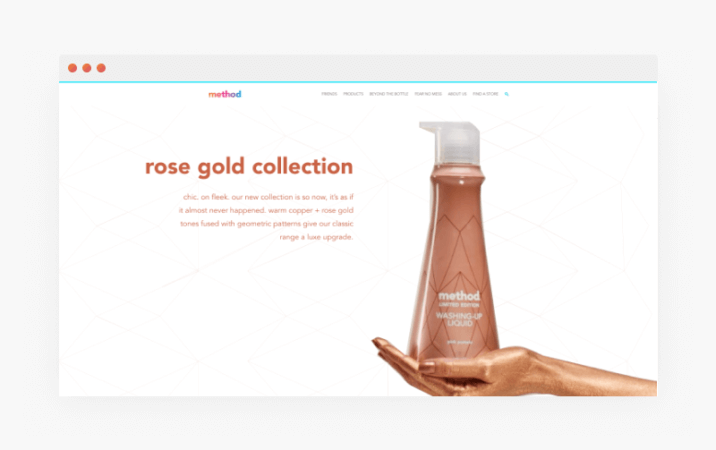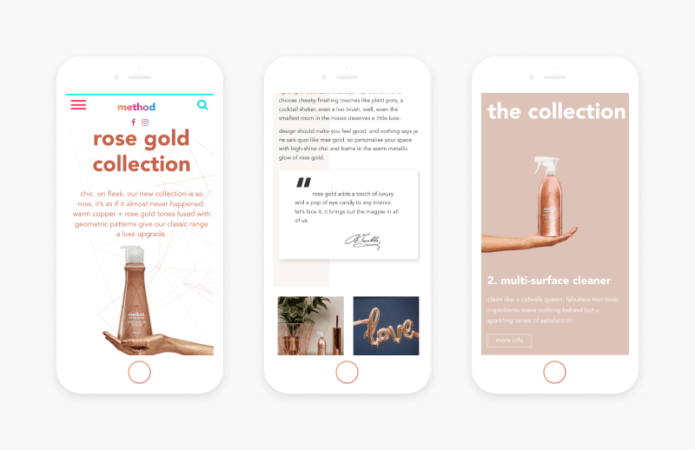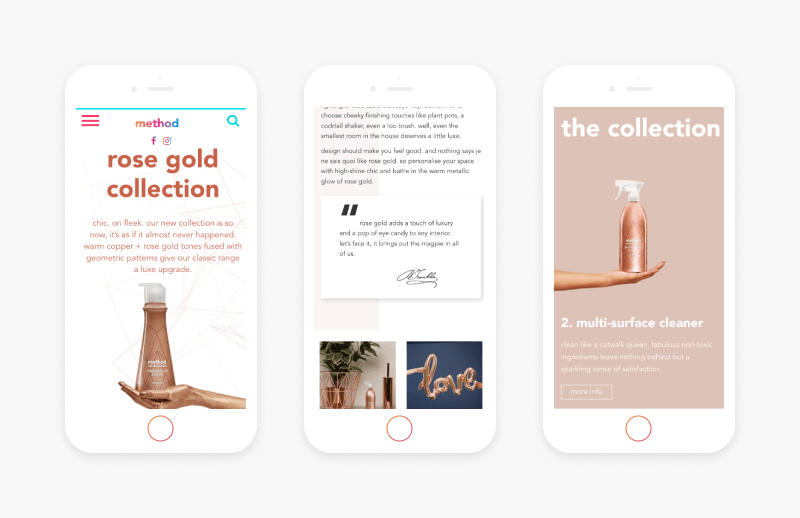 view campaign
Fear No Mess
This project was for method's #fearnomess campaign, highlighting their grease-shifting dish soap and new concentrated laundry range. The laundry range was created with method's trademarked smartclean technology® – five naturally derived powerful enzymes that tackle dirt and make for a powerful stain remover.
We had fun with this campaign, with videos the focus on the homepage, highlighting how well the products tackle everyday messes with ease, in a lighthearted way.
For the laundry range, we took design inspiration from the natural ingredients and added some fun animations, making the products the focus with the bold use of colour.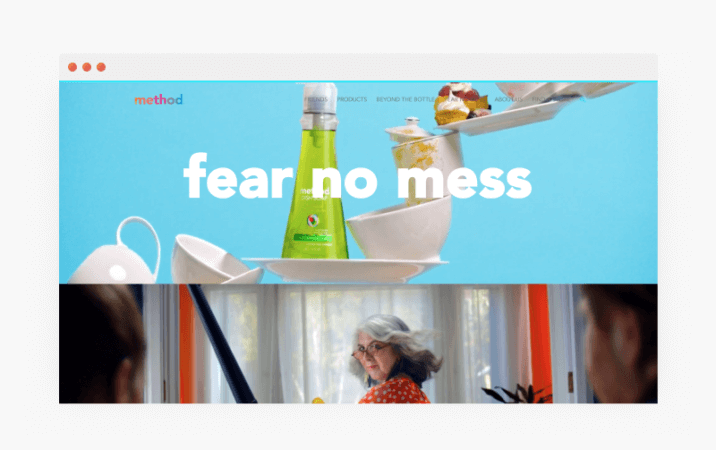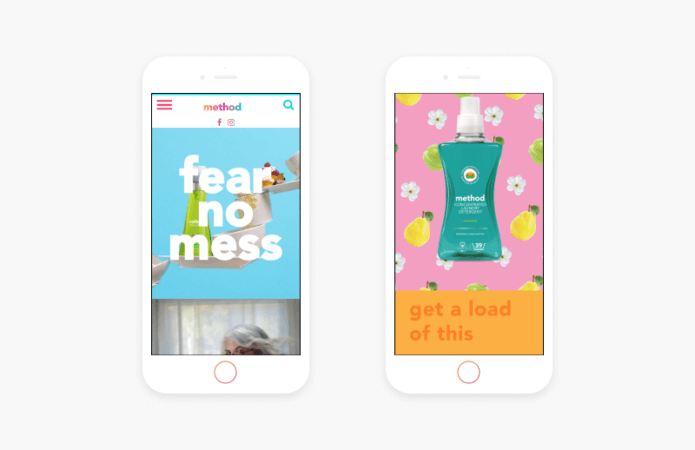 view campaign
Anti-Bac
We created a new page for method to promote the launch of their new anti-bacterial cleaning range. Made with naturally derived lactic acid, this range kils 99% of bacteria but, like the rest of method's products, still smells good enough to eat!
Our designs for this campaign built on the design of the range, and focused on the naturally pleasant aroma of the new products, with added custom animations to highlight the the natural ingredients.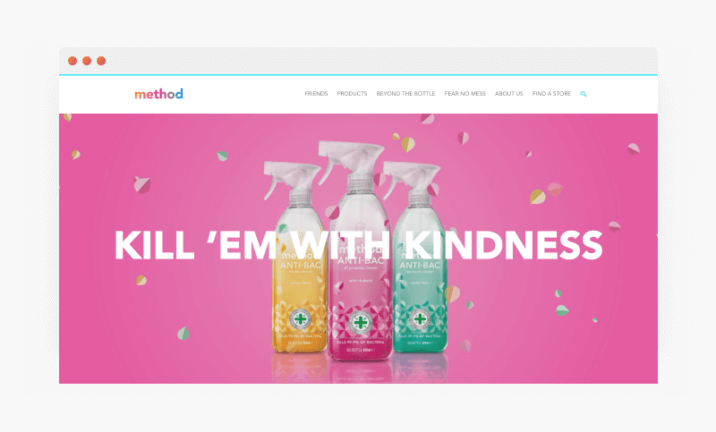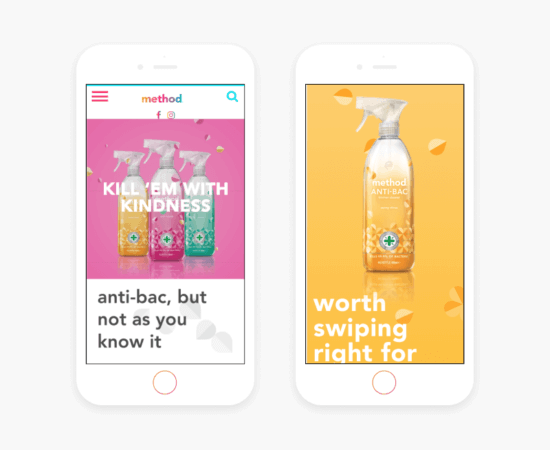 view campaign
Johanna Basford
Johanna Basford, the 'queen of colouring' worked with method, celebrating colours the #themethodway. She drew three delightful designs for a limited edition launch and we created a campaign page, where fans were able to vote for their favourite design. The winning design (Hummingbird Garden) was chosen after about 10,000 votes. This three stage campaign, the voting stage, announcing the results, and launching the product had a continuously developing design and layout, resulting in a rich, custom campaign with high engagement.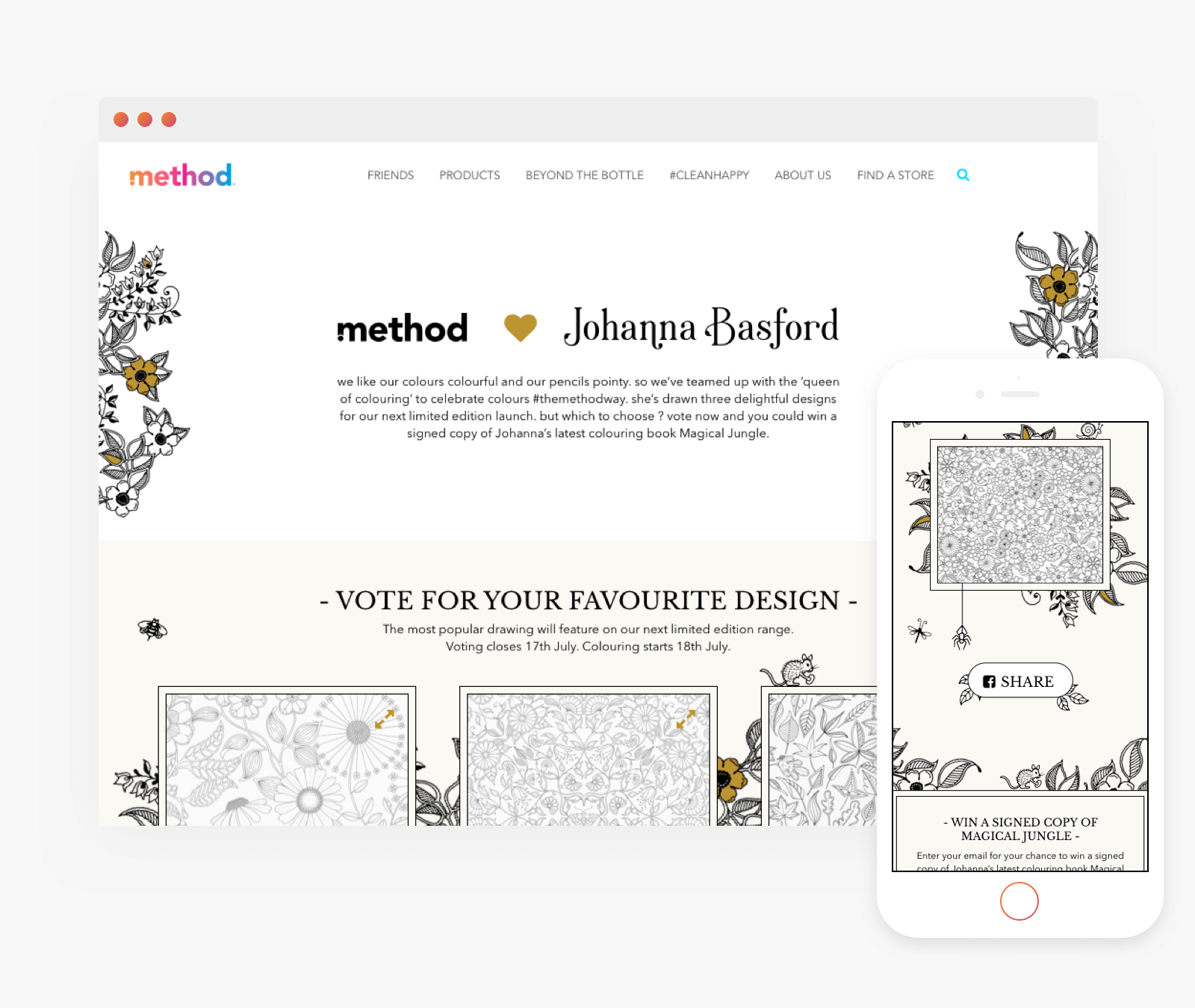 view campaign
Deliciously Ella
Method was delighted to be working with leading food blogger and health guru, Deliciously Ella. As a champion of all things healthy, Ella shares methiod's passion for natural cleaning. Her clean living philosophy is reflected not only in the recipes she creates, but also throughout her home. We created an online 'giveaway' campaign to promote this collaboration, featuring method's limited edition pomegranate collection.