IFEX was created in 1992 in Montréal, Canada, when a 12 leading non-governmental organisations came together to create a coordinated mechanism to rapidly expose free expression violations around the world.

Today, IFEX is the leading global network of organisations defending and promoting the right to freedom of expression and information, recognised for its effectiveness and credibility.
There are now more than 100 IFEX network members in more than 70 countries worldwide. These member organisations work together to defend and promote free expression, drawing the world's attention to these issues through the strategic use of media and mobile technologies, and taking part in joint advocacy campaigns and capacity building programmes.
We had already created a site for one of IFEX's member organisations, Article 19, in 2018, when we first starting speaking to IFEX. Following this, we started working together to create a brand new IFEX website, moving away from the old news focused site to a magazine site that better showcases the range of work that IFEX does.
The design that Wholegrain Digital created for us is accessible, very clean and simple and makes it clear for our visitors where to find the information they want. It also offers us lots of flexibility, especially on the homepage, for how we want to present ourselves to the world.
 When we first saw the proposed homepage design we thought it looked familiar, but fresh. This was important to us because we want our long-time visitors to recognize the IFEX brand.
It was easy to work with Wholegrain Digital, even given the many time zones between us, because they were diligent about planning check-in calls and using online platforms that made it possible to collaborate on wireframes, designs and schedules.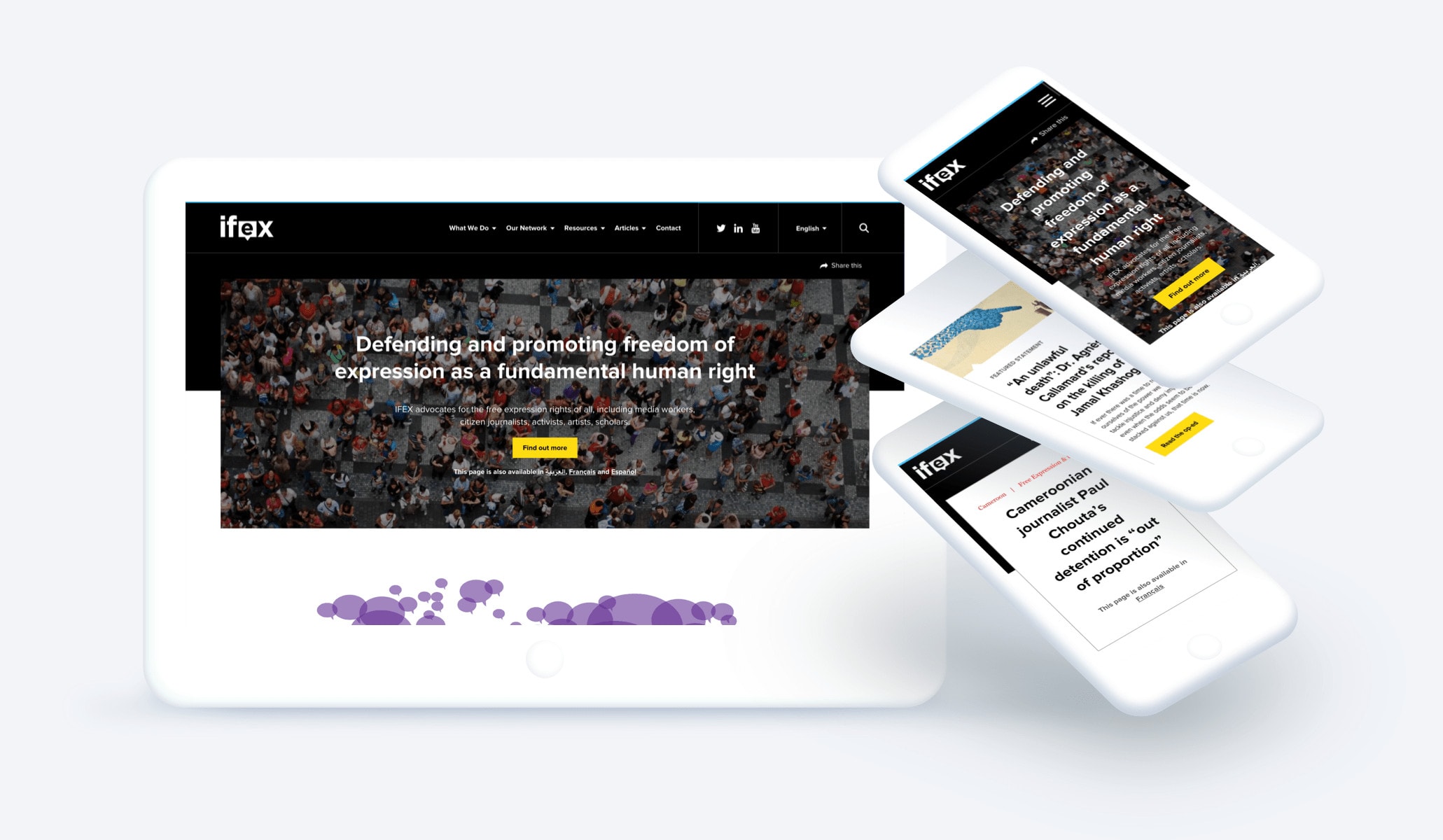 The Brief
Since IFEX's website was last updated in 2013, its work had shifted from being primarily information and news based, to having more focus on campaigns and advocacy work.
They needed a new site that better reflected the organisation's goals, with a more streamlined design that would appeal to their varied audience, which includes members, the public, donors, specialised media and researchers.
Our Solution
Working closely with the communications team at IFEX, we created a brand new 'magazine' style website using WordPress, with a much cleaner design than the previous site.
The new site has much more focus on the range of work IFEX does, and allows for flexibility to highlight current campaigns, events, toolkits, faces, multimedia and more.
The results
The homepage of the website now loads much faster, making the site greener and offering a much improved user experience.
  2.10g ↓

C02 per page view    

       (down from 2.77g)

        941B

KB

↓

page size

       (down from 1.46MB)      

   1.6 secs ↓

page load time

           (down 46%)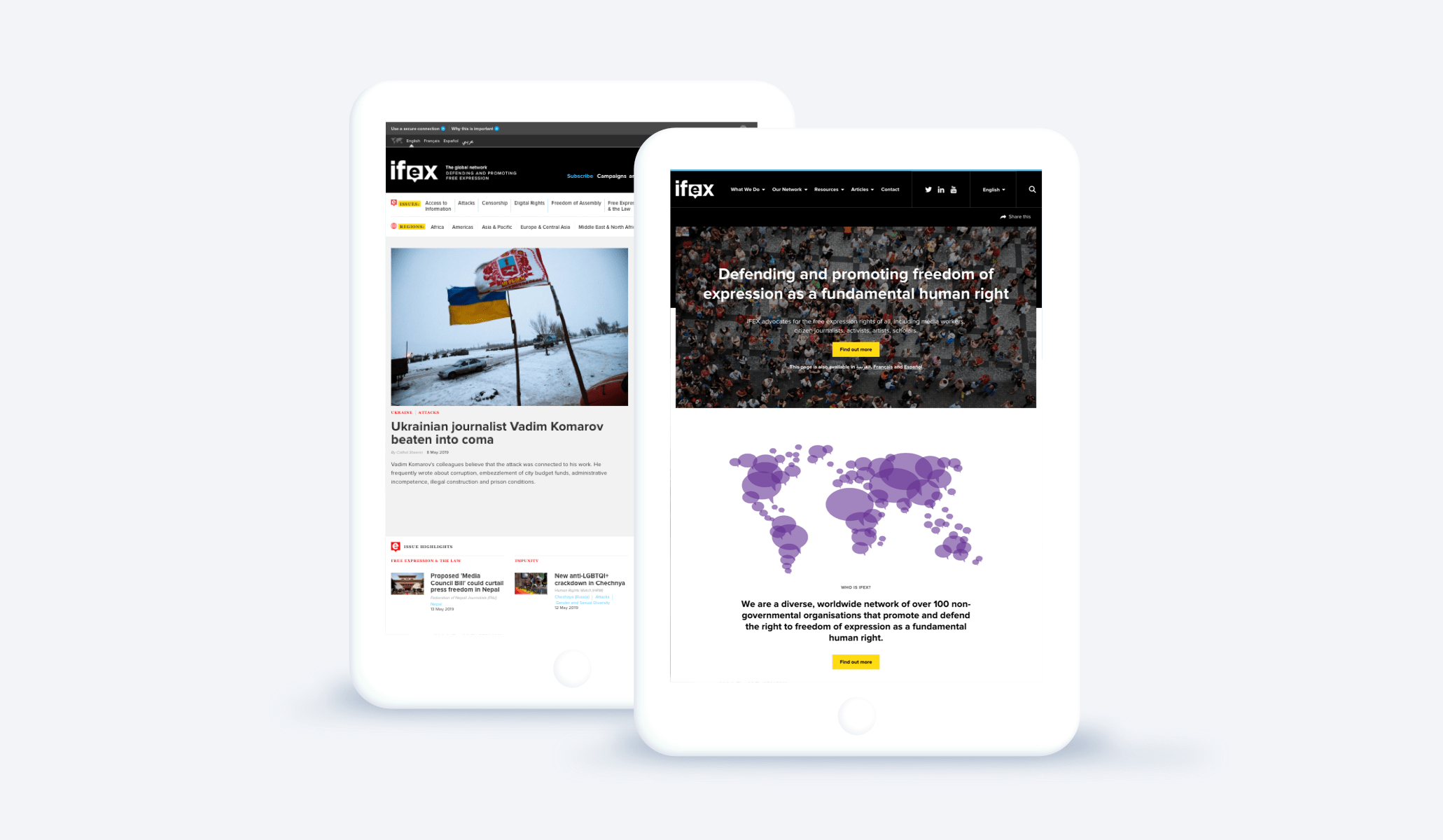 From this (left)… To this (right)!
To ensure that the IFEX brand remained recognisable, we worked closely within the guidelines, keeping the logo and colours of the old site but creating a cleaner design, making it much easier for visitors to the site to see what IFEX does, and who the various member organisations are.
The new website is also much easier to navigate. Not only is the new design less cluttered, making it easier to see where to find information, we also updated the search function, which is now powered by Algolia. This new functionality gives instant search results from more than 150,000 posts.
Changing from Bricolage, their old CMS, to WordPress, offers the IFEX team a lot more flexibility, allowing for members of different teams in different countries to edit website content at the same time. Erin Woycik, IFEX's Content Specialist, said "I am starting to realize with WordPress I have so much more access to fix things than I did with Bricolage." Having different levels of responsibility in place also allows users to access different areas of the website to avoid duplication.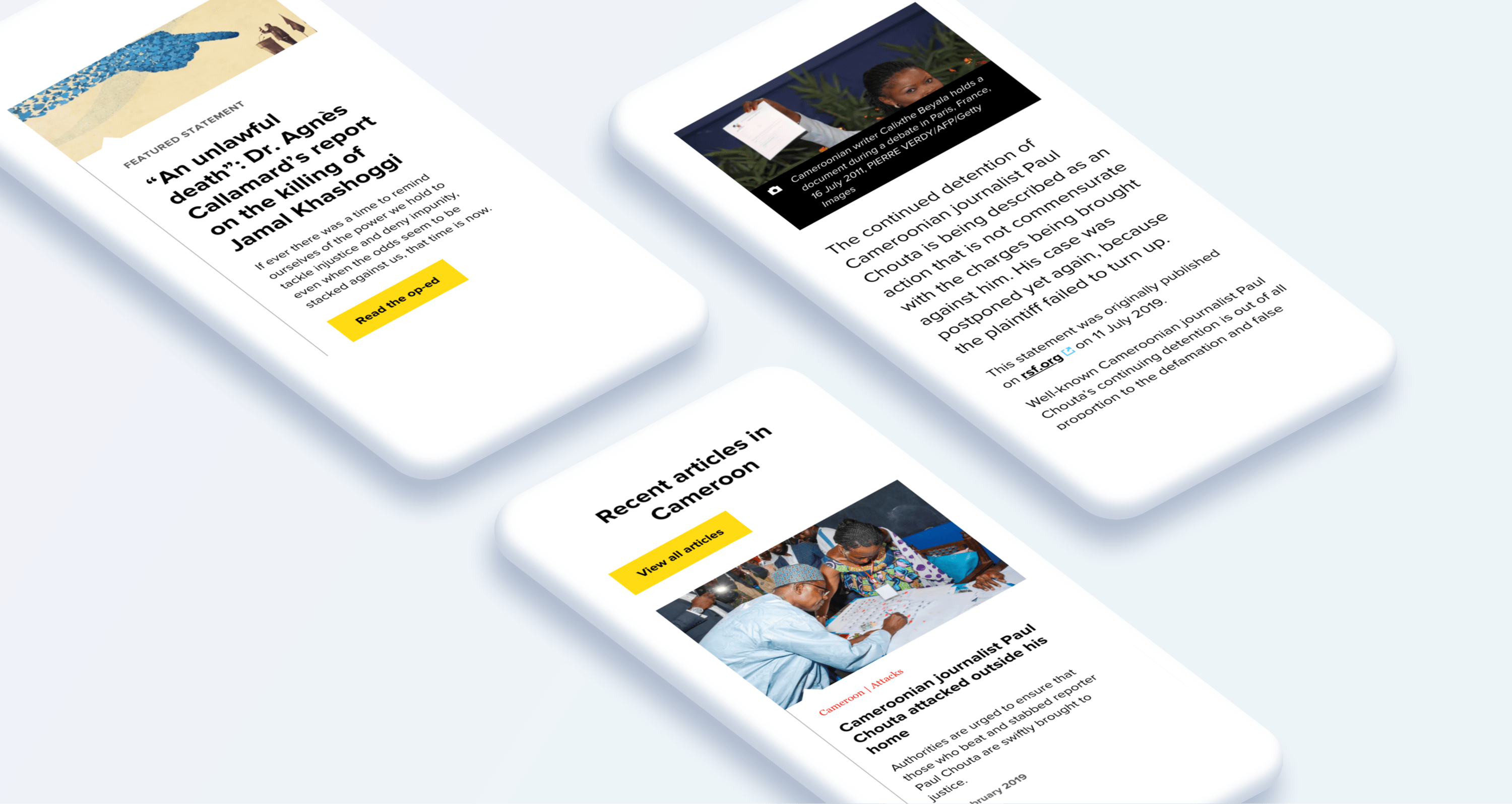 By using flexible content blocks for the homepage, IFEX now has the ability to change the homepage to highlight particular campaigns. This also enables them to use a wider range of dynamic campaign content, including video, timelines, slide shows, political cartoons and images.
Having this level of access to change the site themselves, allows IFEX to make immediate changes that much better support their content and showcase the fantastic work they are doing to advocate for the right to free expression for all, across the globe.