Nu-Heat is the biggest supplier of bespoke designed underfloor heating (UFH) and renewables in the UK. The company, founded in 1992, boasts a strong commitment to delivering energy efficient systems across the UK for over 25 years.
Aside from their bespoke service offering, what really sets Nu-Heat apart from other suppliers is their level of service. With brand values like integrity, diligence, empowerment and nurture, Nu-Heat take their professionalism and dedication to customer peace of mind very seriously. In fact, Nu-Heat are the only company in the heating sector to be awarded the national ServiceMark customer service award with Distinction from the Institute of Customer Service. What's more, their strong focus on customer service earned them a 2018 UK Customer Satisfaction Award. 
Of course, the team at Wholegrain jumped at the chance to work with such an established and values-led organisation. 
Great communication, friendly and very easy to work with – an extension of our own team.
The Brief
When we first met Nu-Heat, their site was four years old. It was outdated and poor code had meant that even making simple changes was very difficult. They needed a site that was modern, user-friendly and easy to edit using a drag and drop method of building. They wanted content management and split-testing to become effortless. 
Nu-Heat were also planning a huge brand update, which meant the site needed to be completely redesigned in time for the new brand launch in July 2019.
The Solution
Working closely with Nu-Heat's team, we researched their customers' behaviour, needs and pain points. We strived to understand what they needed and how we could improve their experience on Nu-Heat's website. 
Armed with this knowledge, we made various updates and improvements to the site, using modular blocks to give the team at Nu-Heat complete control and flexibility. 
Of course, the new website was designed following Nu-Heat's new brand guidelines, giving them a sleeker and more sophisticated look.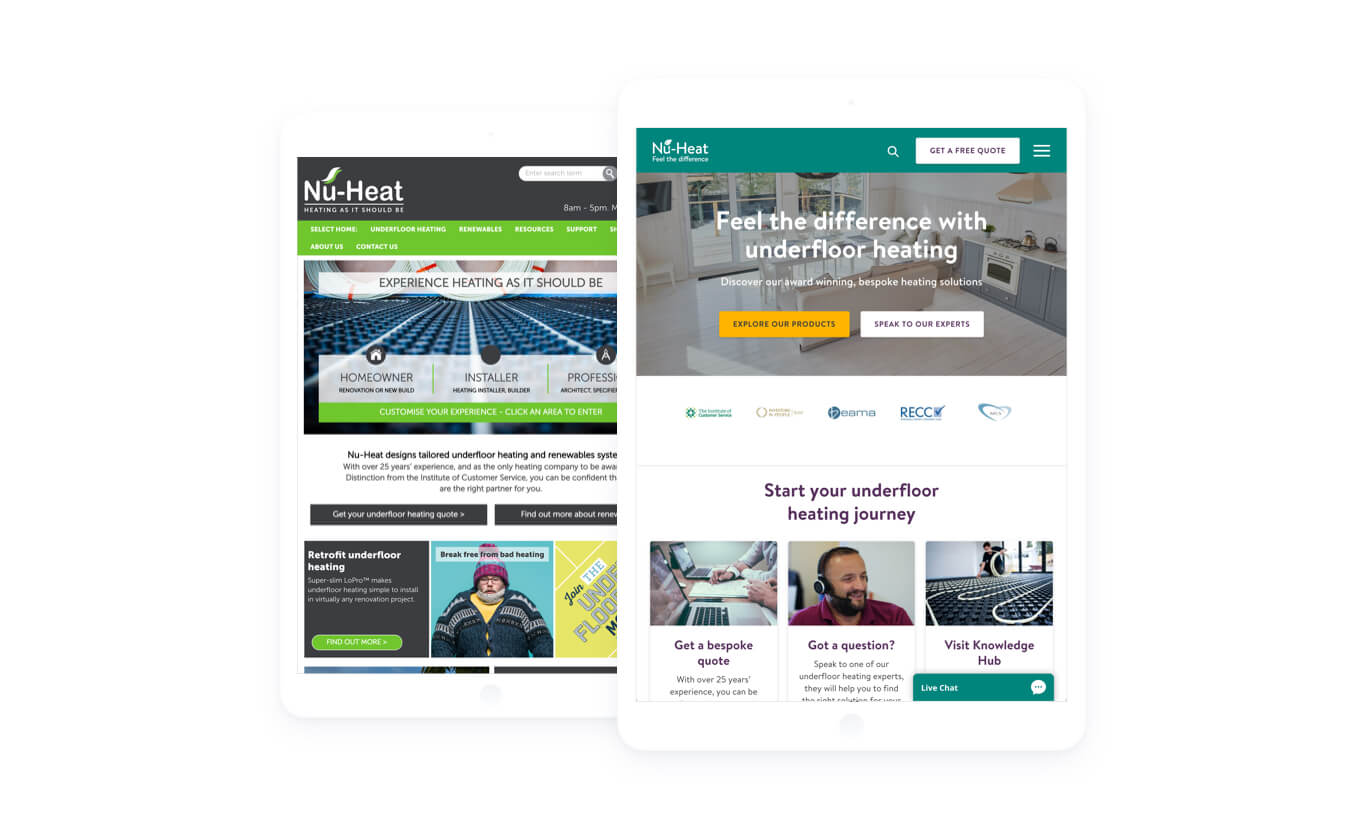 The Results
The new site is faster, more user-friendly and brings Nu-Heat's website presence in line with their incredible service offering. 
Since launch Nu Heat have seen a….
25% increase in 'get a quote' requests

80% increase in contact form submissions 

70% decrease in load time (1.25 seconds)
One of the things that came up again and again in Discovery was the importance of reviews and honest customer feedback. We included a full Feefo integration, giving Nu-Heat the option to choose between simple widgets, a carousel, or a full Feefo integration to pages.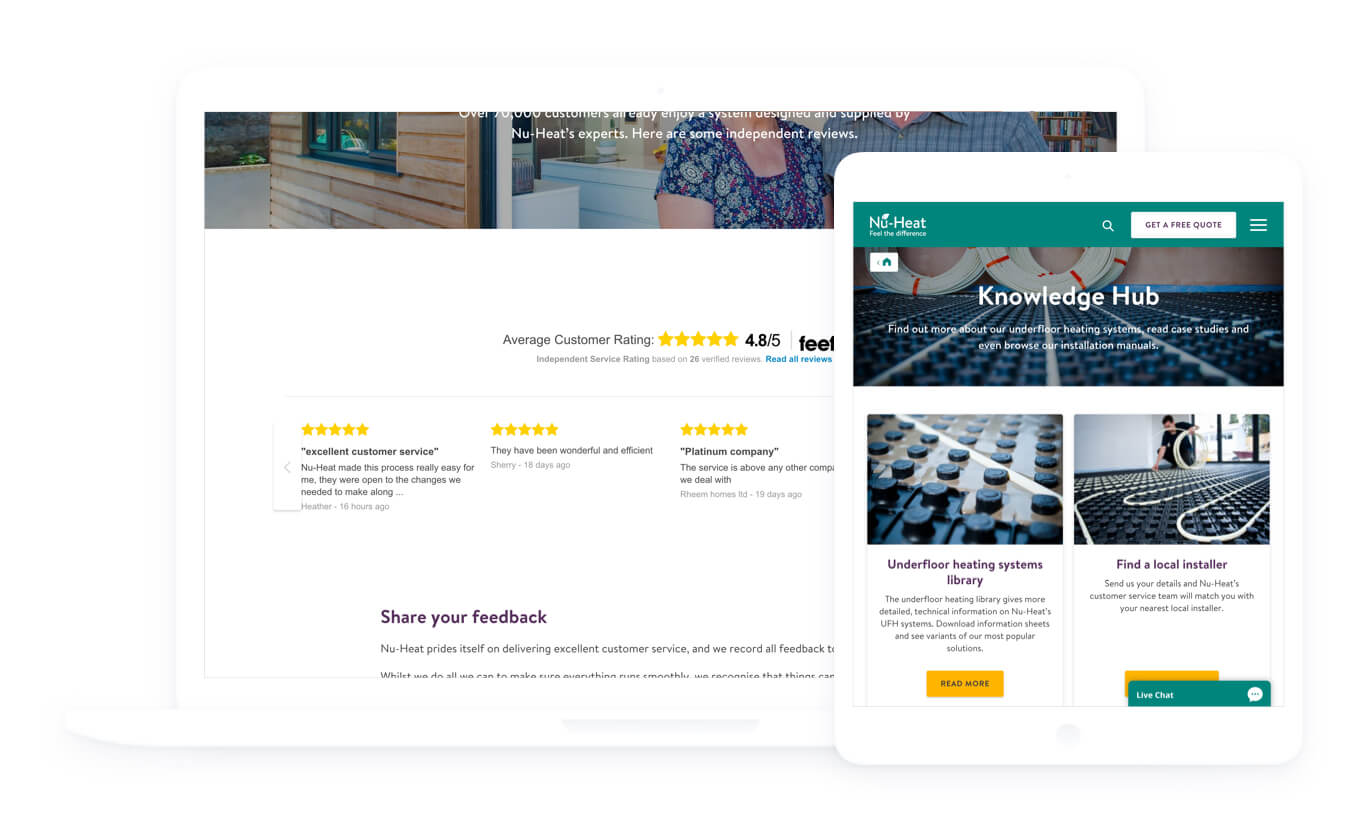 Knowing that reviews were a deciding factor for many visitors, we also developed a brand new case studies template – which works to showcase the incredible properties Nu-Heat work with every day. 
Campaigns are hugely important for Nu-Heat, and campaign pages act as landing pages for most of their PPC campaigns. Their old campaign pages were clunky and didn't allow users to click through and browse Nu-Heat's website. We rectified this with a campaign page template that is fully flexible and beautifully designed. 
One of the most common complaints Nu-Heat's team received about their old website is that it was difficult to navigate. In some of the denser parts of Nu-Heat's website, we introduced a sticky secondary navigation that follows the user as they scroll. This is present on both mobiles and desktops, giving the user instant access to the items in the specific menu they are browsing in.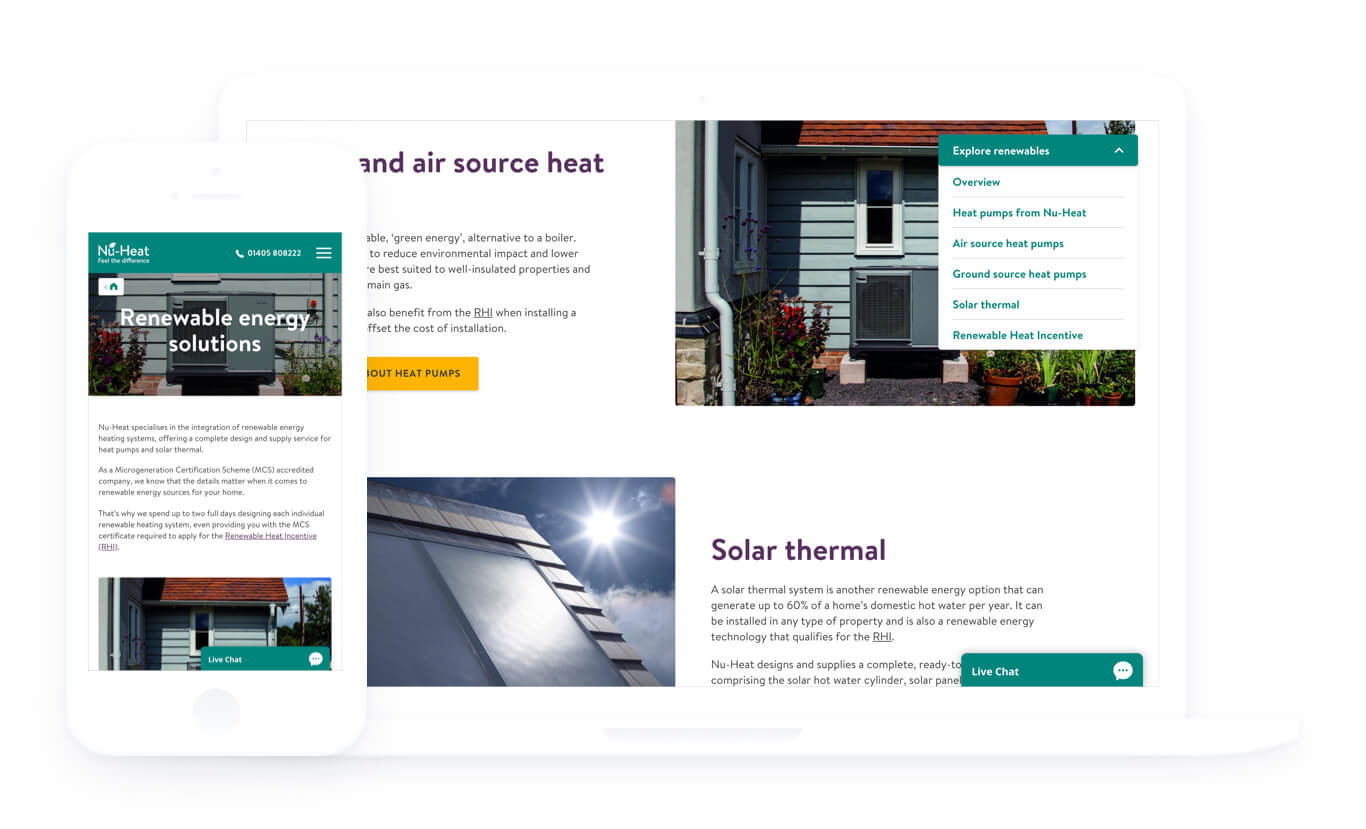 Taking a look at Nu-Heat's analytics, we could see that a large proportion of their visitors come from mobiles. A key section of this audience is tradespeople, who are often registered suppliers of Nu-Heat's systems. We ensured that mobile menus featured a click to call button – rather than a CTA button – as we knew that tradespeople would be looking for a fast route to contacting Nu-Heat with their questions.
We also took into consideration mobile users when it came to other features on the site – such as pop ups. By disabling pop-ups on mobile devices, we gave mobile users a smoother experience. Pop ups still appear on desktops, where they compliment the user experience of self-builders and property owners who are browsing the site.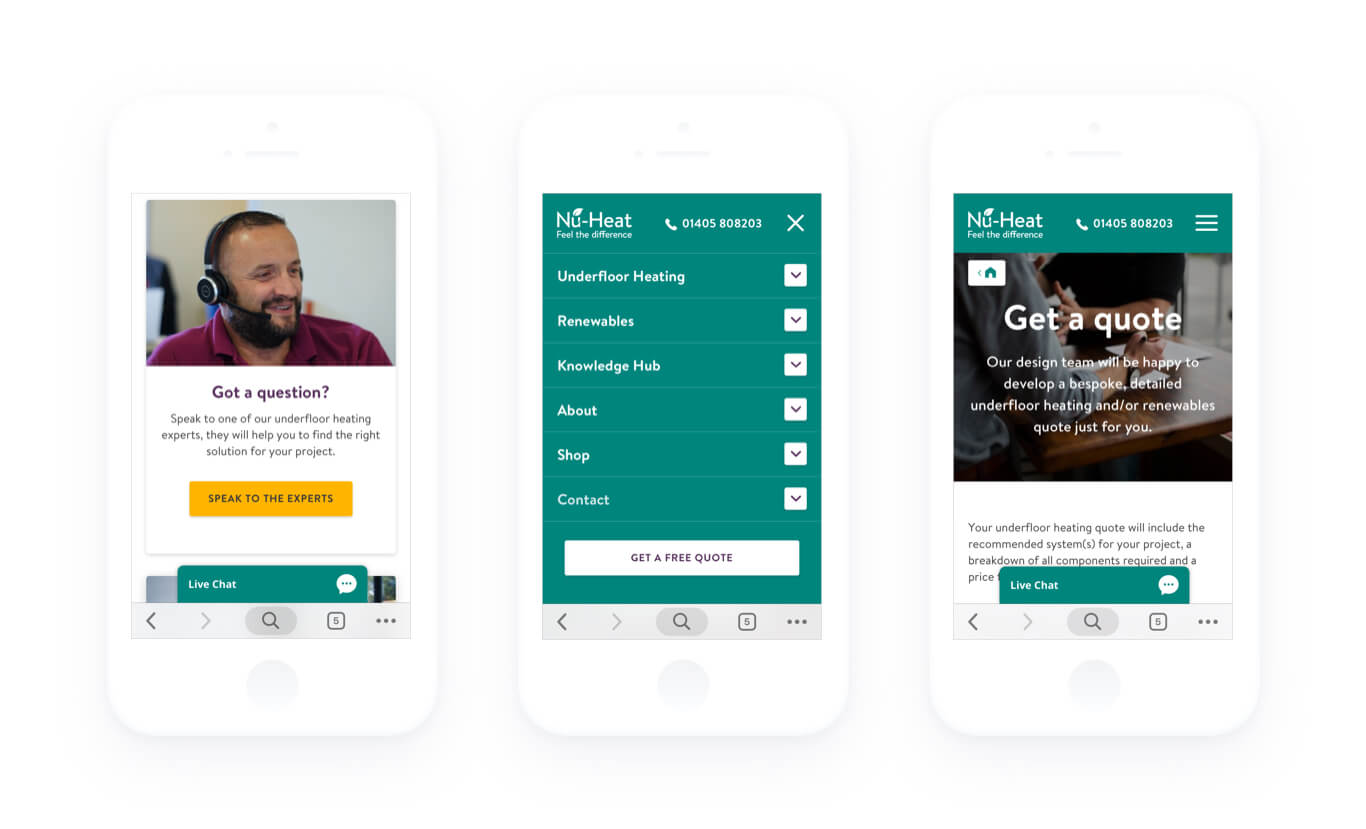 Finally, we installed Google Optimise on the site, giving Nu-Heat the ability to conduct split-testing with ease and allowing them to constantly improve the site on an ongoing basis.