We originally became a B Corp in 2017. After a decade of trying to be a sustainable business, we felt that we needed to raise our game and validate our own efforts with an independent assessment and framework. Considering that we had founded the company with the aim of being a sustainable business, getting certified was surprisngly difficult, but we got there in the end. The past 3 years have flown by and this year it was time to go through the process again and recertify.
I'm excited to announce that we've just completed our recertification as a B Corp and in this post, I want to share some of the highs and lows of the process.
Why bother recertifying as a B Corp?
When I received the email telling me that it was time to recertify, I took a moment to reflect on our experience of being a B Corp for three years. I remembered the mammoth effort that it took Mohib, Rachael and I to complete the original assessment.
"Do I want to do this again?" I asked.
"Is it really worth the effort?"
I'm pleased to say that on reflection, the answer was a definite yes.
Although the B Impact Assessment can seem like a bit of beast, it's helped us to really get organised in our efforts to create positive impact and to quantify the impact that we are making.
It does frustrate me a little that lot of the positive things that we've done as a team in the last few years are not counted in the impact assessment, but I can honestly say that being a B Corp has been the catalyst that has led us to push ourselves to do better.
In addition to helping us achieve our full potential as a team, one of the best parts of being a B Corp has been the incredibly open and welcoming community. If I am being honest, meeting so many amazing people has renewed my hope that a better way of doing business, and of living life, is really possible.
The proof is in the pudding, because after 3 years of being a B Corp, we have tangibly improved our performance in using business as a force for good.
We improved our B Corp score!
The B Impact Assessment has a maximum score of 200 points and a minimum pass mark of 80 points. 80 might sound low, but I assure you that getting a pass is incredibly difficult. The median score for businesses taking the assessment is 50.9 points, and nobody gets 200 points.
Three years ago, after a huge effort, we scraped in with 84.2 points. This time around, I was genuinely not full of confidence. I was so daunted by the memory of certifying the first time that I worried that we might not even get enough points to recertify.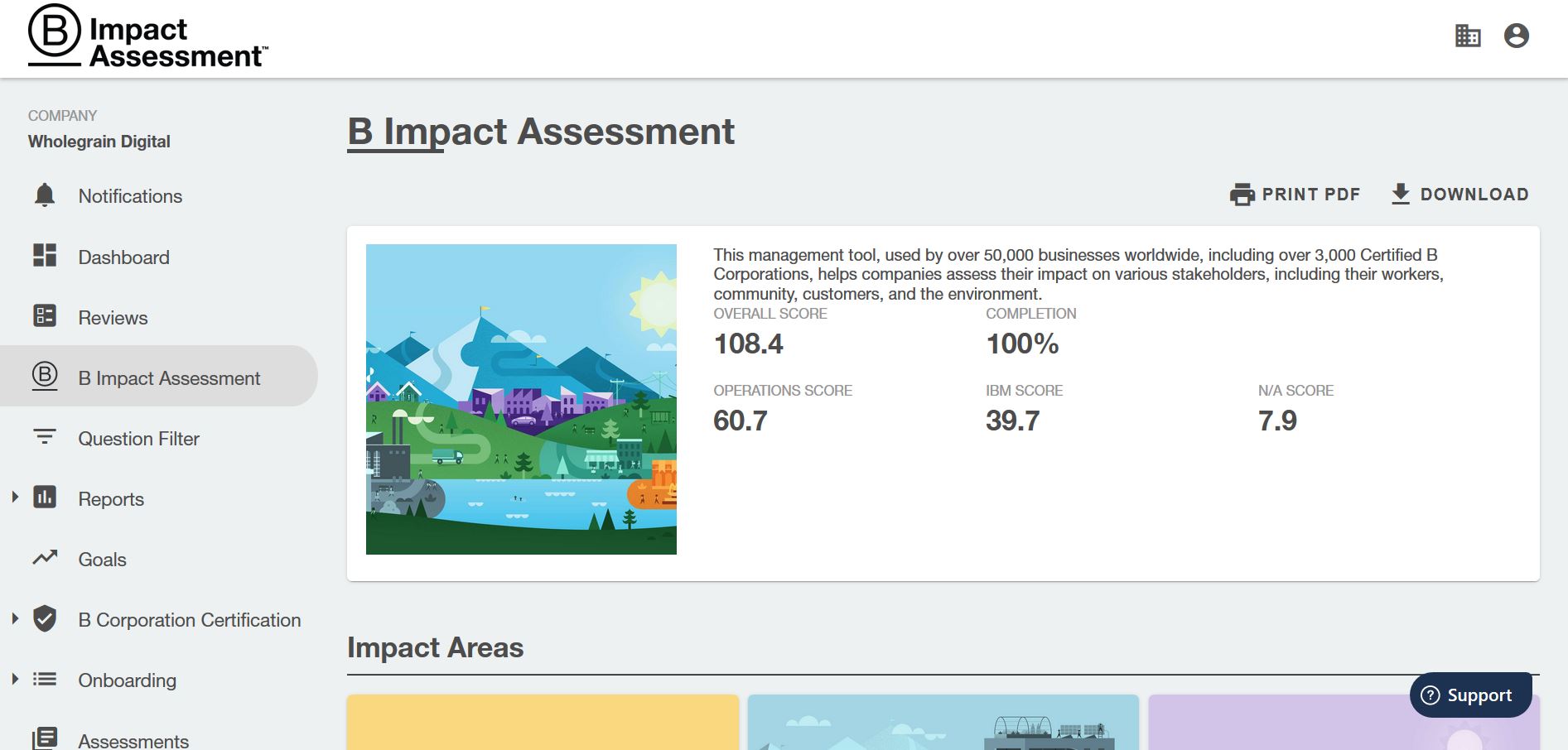 Our hard work really has paid off. While it isn't about collecting points, it does feel good to have recognition for the improvements we have worked so hard on.
There were lots of small incremental improvements that contributed to the higher score, but the single biggest factor was our products and services.
Over the past few years, we've been on a mission to quantify the environmental impact of the websites that we build and maintain, and to find ways to reduce that impact. We've become a voice in our industry on the need to green digital and the solutions to do it. So when we came to recertify, I confidently filled in the sections on 'Environmental Product Benefits' to say that we produce eco-friendly websites.
This entire section was rejected, including the sub-sections relating to impact business models.
I wrote back to the certification team to ask why it had been rejected. The answer was that they didn't understand how websites and our related services could have 'Environmental Product Benefits'. This part of the assessment is really intended for companies that sell things like biodegradable soap, renewable energy and organic food – not websites.
And as far as I'm aware, we're the first company to successfully include websites as being in line with the Resource Conservation Impact Model, meaning that they are eco-friendly products.
When this was all factored in, our score jumped significantly. We've put so much work into our green web design and development process and I'm delighted that the certification team were able to acknowledge that.
How was the recertification process?
As you'd expect, the recertification process was pretty similar to the first time we did it.
Initially, it was a little easier because it was familiar and many things could be copied over, but it was still tough. We had done some of it in advance, which thanks to help from Neisha and Rachael, was a real blessing. When we finally hit the submit button, I felt like a cloud had lifted and that feeling lasted for a few days.
It didn't last much longer though. A few days later I was then sent a somewhat scary spreadsheet and asked to fill it in with information that we had already entered into the assessment tool. "Is this a joke?" was my initial reaction. I felt really deflated.
To make it worse, having submitted the assessment in the B Impact Assessment portal, I couldn't find my way back to access the information that we had already submitted. This was definitely a low point for me and for a little while I felt like giving up. But we had come so far. I had to put my opinions about poor user experience to one side and accept that this was the process, and we had to follow it.
I managed to find some time to gather the data into the spreadsheet and from that point forward the certification team at B Lab really held my hand to get me to the finish line. Big thanks to Adrienne at B Lab for being so understanding and clarifying so many things that I was unsure about.
What's next for us as a B Corp?
We've come a long way and I am incredibly proud of what we have achieved together as a team in the past few years. Of course, I see plenty of opportunity to do more.
I feel like we're only at the beginning of our journey in digital carbon analysis and reduction, and I see us going much deeper on this in the next few years.
Furthermore, I want to take our team culture to the next level in terms of transparency, inclusiveness, and entrepreneurship. So expect some exciting developments on that front in the near future.
I've always wanted Wholegrain to be a prototype for the perfect company – truly environmentally sustainable, a good corporate citizen and a place where people don't get a job, but develop a fulfilling life. Lofty ambitions perhaps, but this is what gets me out of bed in the morning.
I feel like we have finally reached the base camp of Everest and have had a chance to pause, reflect and dream of the impossible. Now it's time to start some serious climbing!
Join us in the B Corp community
Aside from giving us a framework and independent oversight to help us do better, the best thing for me about becoming a B Corp has been the incredible community.
I've been inspired and humbled by the energy, enthusiasm, kindness, and generosity of so many people that I've been able to meet in other B Corps over the past few years. It's fair to say that we wouldn't be where we are if it wasn't for them, and for that I am hugely grateful.
If you're thinking of becoming a B Corp and fancy a friendly chat with people who have been through the process, do you feel free to say hi.