Leading on digital sustainability
Hello!
Tom here with just a quick intro today.
We've had a bumper month of bank holidays here in the UK and I've had a bit of time off with Vineeta to celebrate our 15th wedding anniversary. While away, I left our Digital Sustainability Lead, Marketa, to take over the editorial for May. A fitting month to do so, as it marks Marketa's first full year as part of the Wholegrain Digital team. Congratulations Marketa! Over to you…
Hello,
I'm excited to be celebrating my first full year as Digital Sustainability Lead at Wholegrain, and
what a year it's been
! It's been an honour working alongside such a talented team and taking up the reins on all things Digital Sustainability, including leading our first Digital Sustainability-led
project for the UK Green Building Council,
as well as quantifying the digital carbon impact to many clients and helping them on a journey toward Digital Sustainability.
I'm looking forward to sharing more of the work we're doing on
Website Carbon
and the Humane Web later this year but for today, my focus for this newsletter is on the actions we can all take to create a sustainable future, including green design and responsible business practices. Hope you enjoy the read and I look forward to chatting with some of you on all things digital sustainability (just hit reply to start a conversation).
Until next time,
– Marketa
Top picks from the green web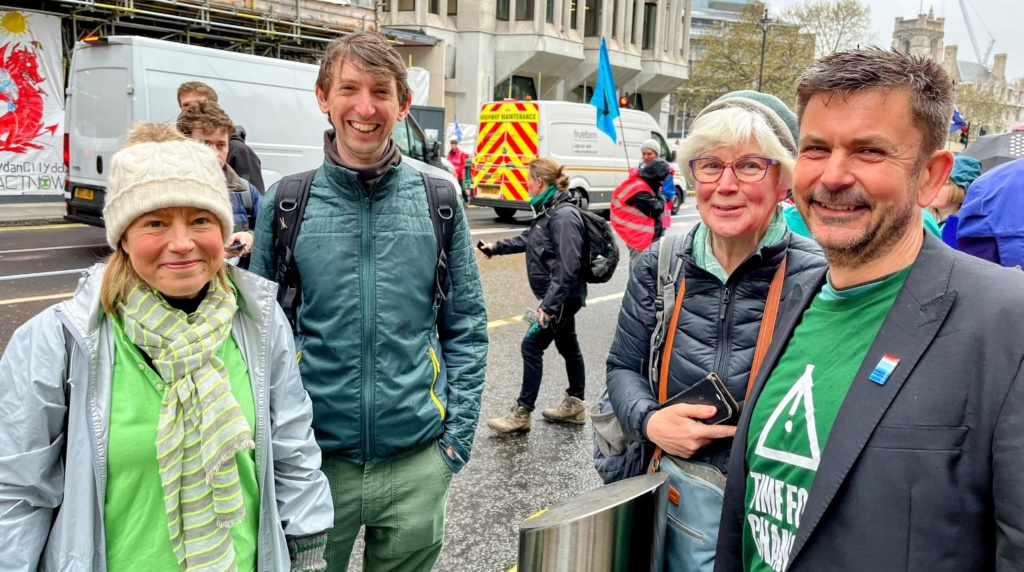 Open source support for employee activism
Before I became part of the team, I had been following not only the work of Wholegrain Digital but also admiring the team culture and revolutionary sustainable practices as a business. From the no-fly policy to the vegetarian food policy, I admired Wholegrain for taking every opportunity to reduce our impact on the environment. These policies are about reducing our impact, but what about taking action to support our collective beliefs? Well, Tom and Vineeta thought about yet another unconventional policy for that too and last month, they introduced an Employee Activism policy.
This new policy supports all team members with their personal activism, including non-violent direct action (NVDA). We've already seen the policy used as some of our team (including Tom of course!) attended the recent Extinction Rebellion protect, The Big One, at the end of last month. We took legal advice to create this policy, to ensure we could include comprehensive support to those taking advantage of it. If you're interested in creating similar for your organisation, we've partnered with Business Declares to create an open source template, which can be adapted to your needs. I am super proud to be working for a company that cares enough to support us as individuals to take a stand for causes we believe in and dare to stand up for.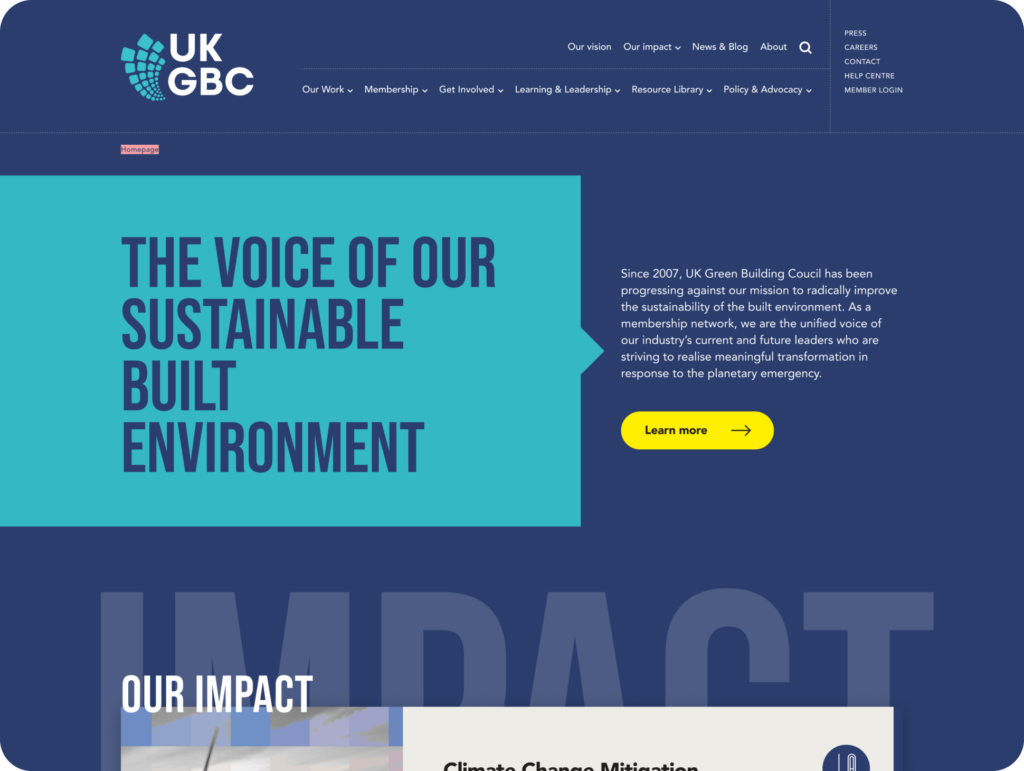 Why all (digital) products should be sustainability led
I strongly believe that education is the core element of change. That's why we invite our clients to join us on a Digital Sustainability journey from the beginning of any project. So, when we started working with the UK Green Building Council, we blocked out some time to deliver a short presentation about the impact of the online world on the environment, as a way to educate the team about Digital Sustainability and discuss the sustainable options of their new website design.
Being the voice of our sustainable built environment, it became a priority to design the new UKGBC website in the most sustainable way. From choosing a dark colour palette to a bespoke, automated image styling across the entire website, it was so inspiring to watch the UKBGC team being so invested in the creation of their new, superlight website. To me, this joint creative thinking process is what sustainable design is all about. If we're serious about creating a sustainable future, we must start any project with the sustainability-first approach, meaning that we must start by asking ourselves the key question: 'What is the most sustainable way of designing X?'
Perhaps we should all start applying our new mantra, "Future—Function—Form", to ensure that sustainability is the core principle of any project that can shape products and systems, not only to fulfil their intended functions, but also to minimise any harm to the environment.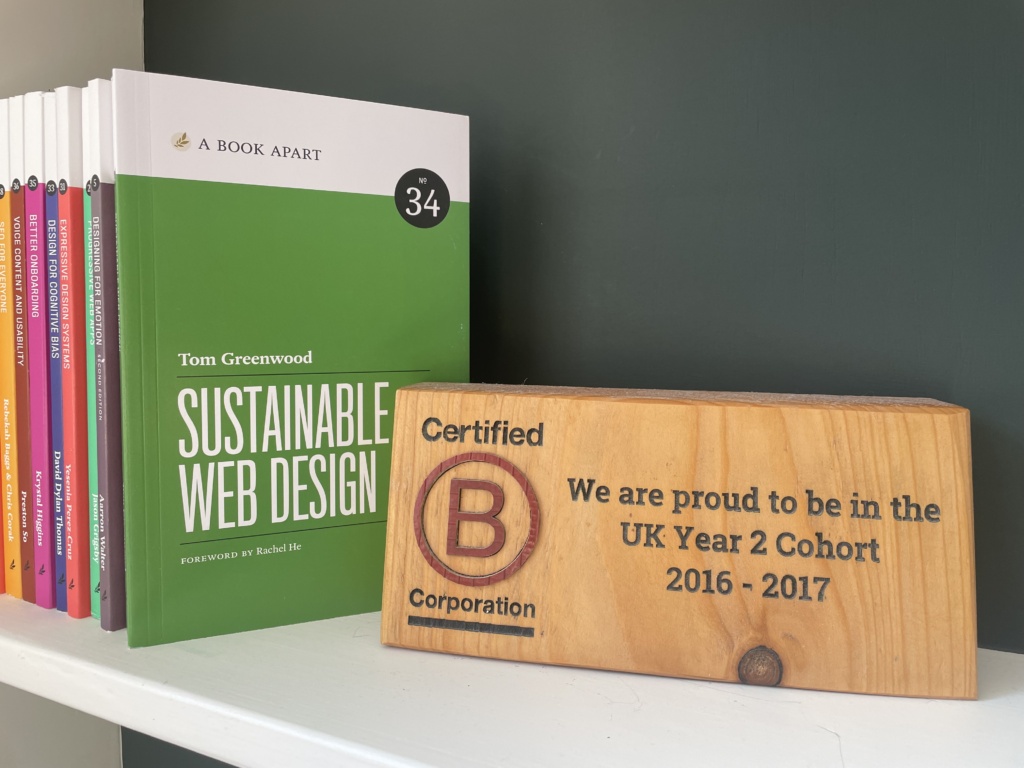 Wholegrain Digital being a B Corporation is a big part of why I wanted to work with the team, but over and above that, as I mentioned earlier, is the desire to work for an organisation that truly cares about the environment. The B Corp certification is an excellent measure of this, with the B Impact Assessment ensuring that it cuts through any greenwashing so that only genuinely responsible businesses can achieve the certification.
I knew it wasn't an easy process, but having had a closer look at the intense process of submitting all the evidence required for our third B Corp certification, I have even more admiration for those who certify, and remain certified – in our case, for six years now! And with an increased score year on year, from 84.2 in 2017, to 122.1 points this year. That's a an impressive jump, and is testament to the efforts the team, led by Tom and Vineeta, put in to make sure we continue to examine and increase our efforts to prove that "sustainable business" doesn't have to be an Oxymoron. We can lead by example and thus have a positive impact on the wellbeing of the people we work with and the environment.
UK seeking to regulate AI development
Since our AI focussed issue last month, there has been so much more news on this that it's a continued struggle to keep up! We're maintaining a cautiously balanced view, noting the bad, such as the news that Geoffrey Hinton – known as the 'Godfather of AI' – has quit Google amid fears around the risks of AI, alongside its possibilities when it comes to accessibility. While scientists developing a system that could turn people's thoughts into text has the potential to cause fear, we are hopeful about the possibilities of such technology for those who don't have, or have lost, the ability to communicate physically.
With both sides of the argument in mind, we welcome the news that the Competition and Markets Authority (CMA), the UK's competition watchdog, is investigating AI, while the Federal Trade Commission in the US is calling for tougher regulation. We're pleased that regulators are looking into this, but it's hard to think of how they will regulate it. However, it is a good sign that they are least trying to be proactive. Only time will tell what difference this will make to the future of AI.
"It's [becoming] more and more important that people feel that they can stand up for what matters to them and make their voices heard."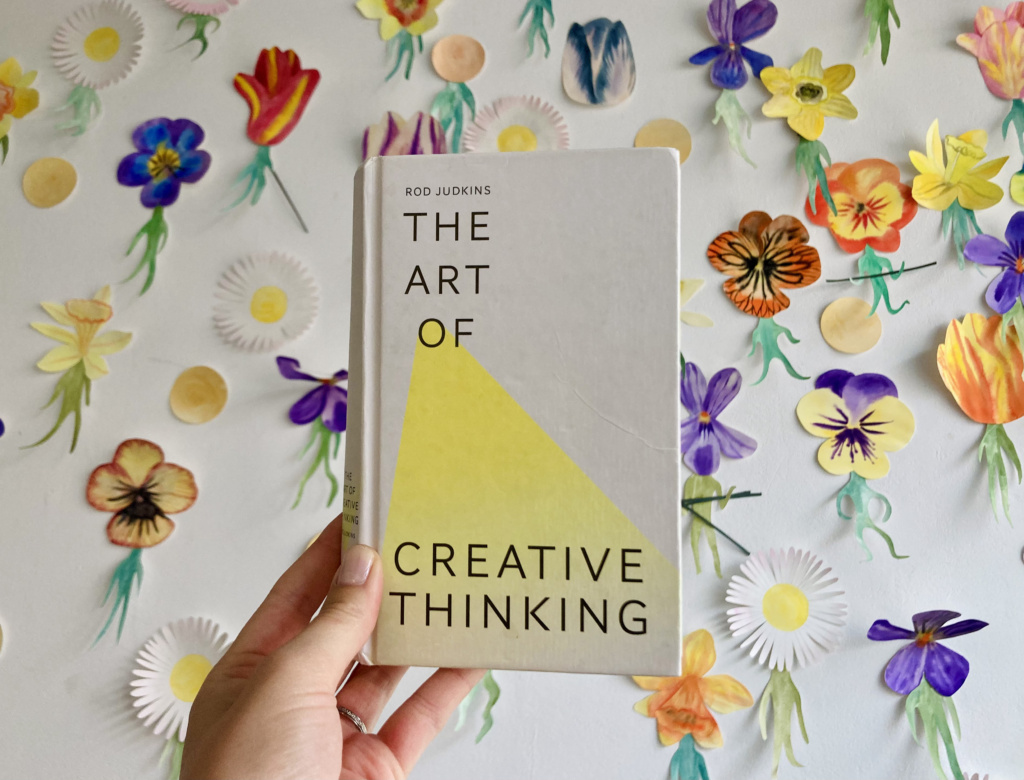 The Art of Creative Thinking by Rod Judkins
In this thought-provoking book, Rod Judkins captures the essence of creative thinking, emphasising that it is not limited to a select few but is a skill that can be nurtured and developed by anyone willing to embrace curiosity and outside-the-box thinking.
Using examples from art and science to business and everyday life, Judkins takes readers on an inspiring journey that emphasises the importance of curiosity and collaboration, challenges conventional thinking and encourages them to embrace uncertainty and failure as integral parts of the creative process. Through captivating anecdotes and real-life examples, he empowers readers to overcome fear and take risks in the pursuit of originality and he also illustrates how creativity can transform lives, businesses and society as a whole.
In an era that demands constant adaptation and innovation, The Art of Creative Thinking serves as a timely reminder that creativity is a powerful force and a fundamental human trait that can solve complex problems and drive innovation and positive change. 
This book provides actionable insights to help readers tap into their creativity. It is a valuable resource for anyone seeking to enhance their problem-solving skills, ignite their imagination and make a meaningful impact. It's one of those books that I keep coming back to, with notes and post-its scattered throughout and plenty of underlined passages. Every time I feel stuck on my creative journey, I reach out to this book for inspiration and fresh perspectives. Perhaps it could help you on your journey, too.

2023 Green Digital Accessibility conference
This years Green Digital Accessibility conference in Barcelona has just been announced and they're looking for people to give presentations and workshops.
If you're interested in presenting, head over to Tom's LinkedIn for more details on the topics they're looking for.
Provisional dates for the conference: 30 November – 01 December 2023
Deadline for workshop proposals: 01 June 2023
Deadline for abstract submissions: 01 June 2023
Notification of acceptance or rejection: 15 July 2023
There's still a week to get any proposals or abstracts in, and we wish you luck!
Other news from the green web
Join the Wholegrain Digital team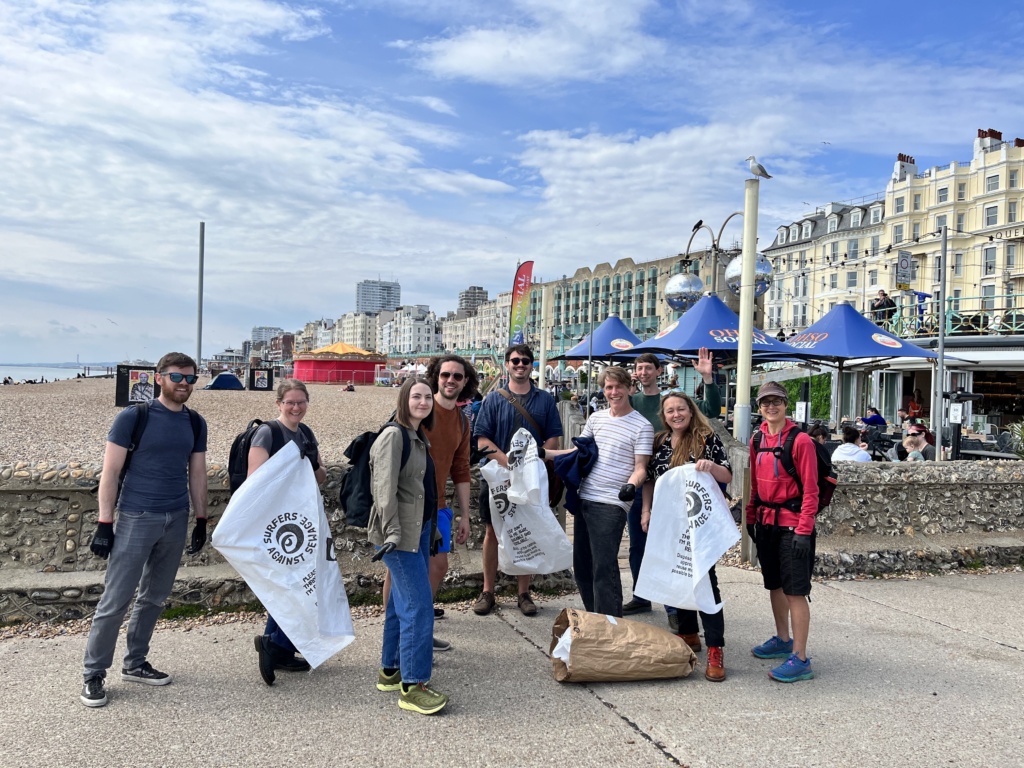 Help us work towards a more Humane Web
We're always looking for talented, warm-hearted humans to join us in our mission to create a more humane web.
As part of our team, you would be part of a diverse and inclusive award-winning B Corp, creating real change in the world.
We offer genuine flexibility and a transparent, collaborative culture.
If you'd like to be part of our team, we have some open vacancies right now, including WordPress Developers, Project Managers and an Agency Account Manager role.
If you're someone who has been watching from the sidelines and thinking that maybe one day you'd like to join us on our journey, now is a great time get in touch and apply.
Check out our careers page or simply get in touch with the team by replying to this newsletter to learn more about us and explore options in a casual conversation.
Curiously Green is curated and written by Tom Greenwood, Marketa Benisek and Rachael B.