Historic UK is the first website of its kind, dedicated to bringing the history and heritage of Britain to life.
Founded in 2000 by two history-loving friends, the original website comprised of two sections: The Historic Accommodation Guide – a collection of historic buildings across the UK, and History Magazine – a monthly publication of those weird, gruesome and interesting bits of history that were often left out of the school curriculum.
In 2010, a brand new search engine was introduced for the accommodation guide, alongside the ability to filter history articles by type. Historic UK is now one of the largest history websites in the UK, receiving an average of more than 850,000 page views every month.
The Brief
When Historic UK first got in touch with us, their website had not been updated for seven years, since their anniversary refresh in 2010.
Historic initially asked us to to migrate its website from a closed source, proprietary LAMP-based CMS (called 'Decibel') over to WordPress, ensuring that we maintain the design and functionality of the original site.
Our Approach
Custom Design. Responsive Theme Development. Extended Search Functionality. Custom XML Exporter Build
Working closely with the Historic UK team, we started by creating custom page templates for the new website, ensuring that the new designs would be responsive across all mobile devices. While we took inspiration from the original design, we worked together to bring it more up to date and improve the user experience, making it easier for visitors to find what they need.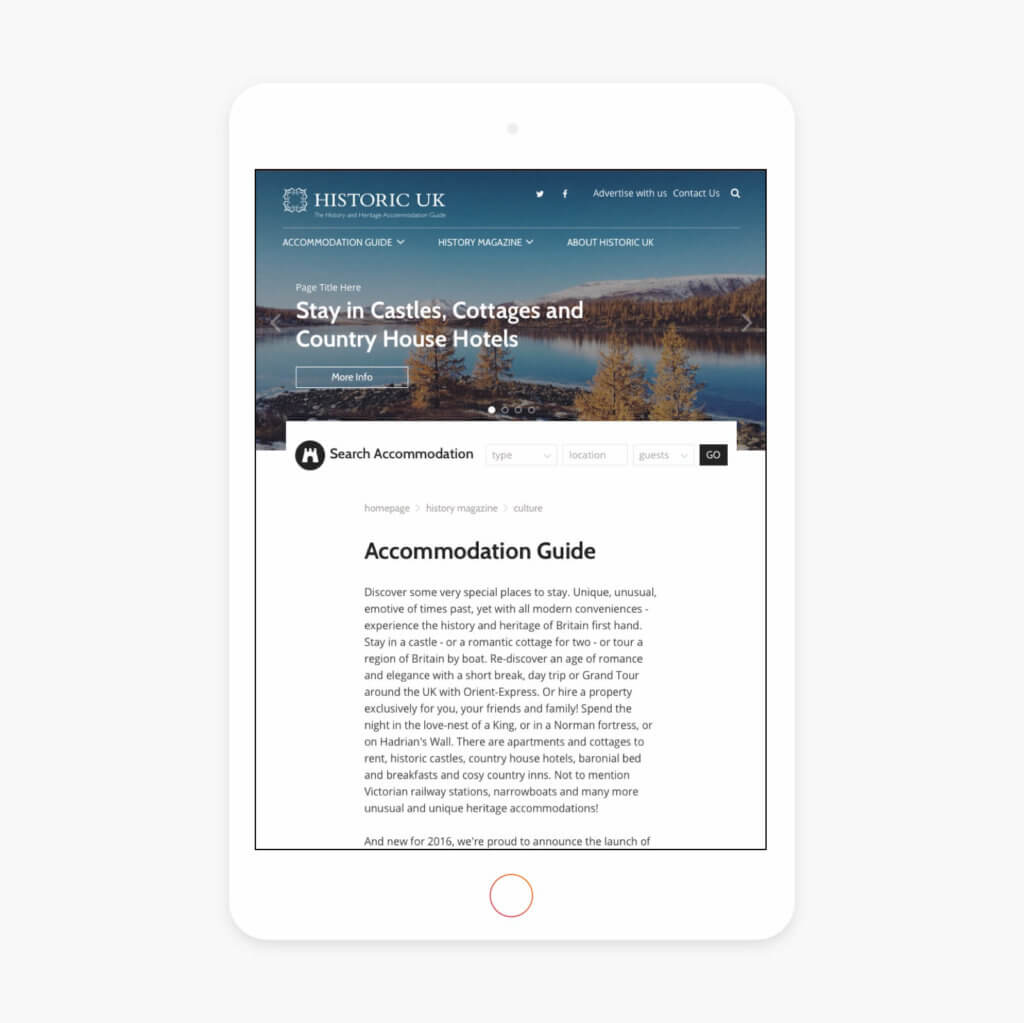 We updated the look and feel of the site to increase the focus on the two main sections, Accommodation and History Magazine. We improved the search engine function to allow people to search for accommodation by location and type, reducing the number of steps needed to get to the booking stage. We also moved the newsletter sign-up to the homepage, to encourage readers to develop an ongoing relationship with Historic UK.
Finally, to move all the content from the old site to the new one, we needed to convert the original XML files, which are not standard WordPress exports, to make them compatible with the new CMS. To allow us to do this, our developer built a custom XML exporter, which converted the files to create WordPress data and posts, which we could then migrate to the new website.
The Results
Following the work we did to improve the user experience on their site, the Historic UK team quickly saw positive results. After the new website was launched, they found that visitors were spending twice as long on the site and were viewing more pages than before. The bounce rate reduced and the revenue from AdSense increased by 39%, achieving all of their objectives for the new website, and more.
We are pleased to have developed a strong relationship with the Historic UK team, and we look forward to building further on this, as we provide ongoing support for their new site.
Visit site