Method
Making Method multisite in record time
Method Products is a San Francisco-based corporation that produces nontoxic, biodegradable natural cleaning supplies with a focus on minimalist product design.
In 2012, Method Products joined the Ecover Group, a global organisation focused on sustainability. Ecover and Method Products form the world's largest green cleaning products company by sales.
We closely identify with method's Business for Good ethos, which is aligned with our own commitment to sustainability. Method is a certified B Corporation, having met the rigorous testing standards of social and environmental performance, accountability and transparency required by B Lab, who are dedicated to serving a global movement of people using business as a force for good™.
We love working alongside the method team, supporting them in providing greener products – that look and smell delicious and, importantly, actually work (yes, we do use them!) – for the 'fight against dirty'.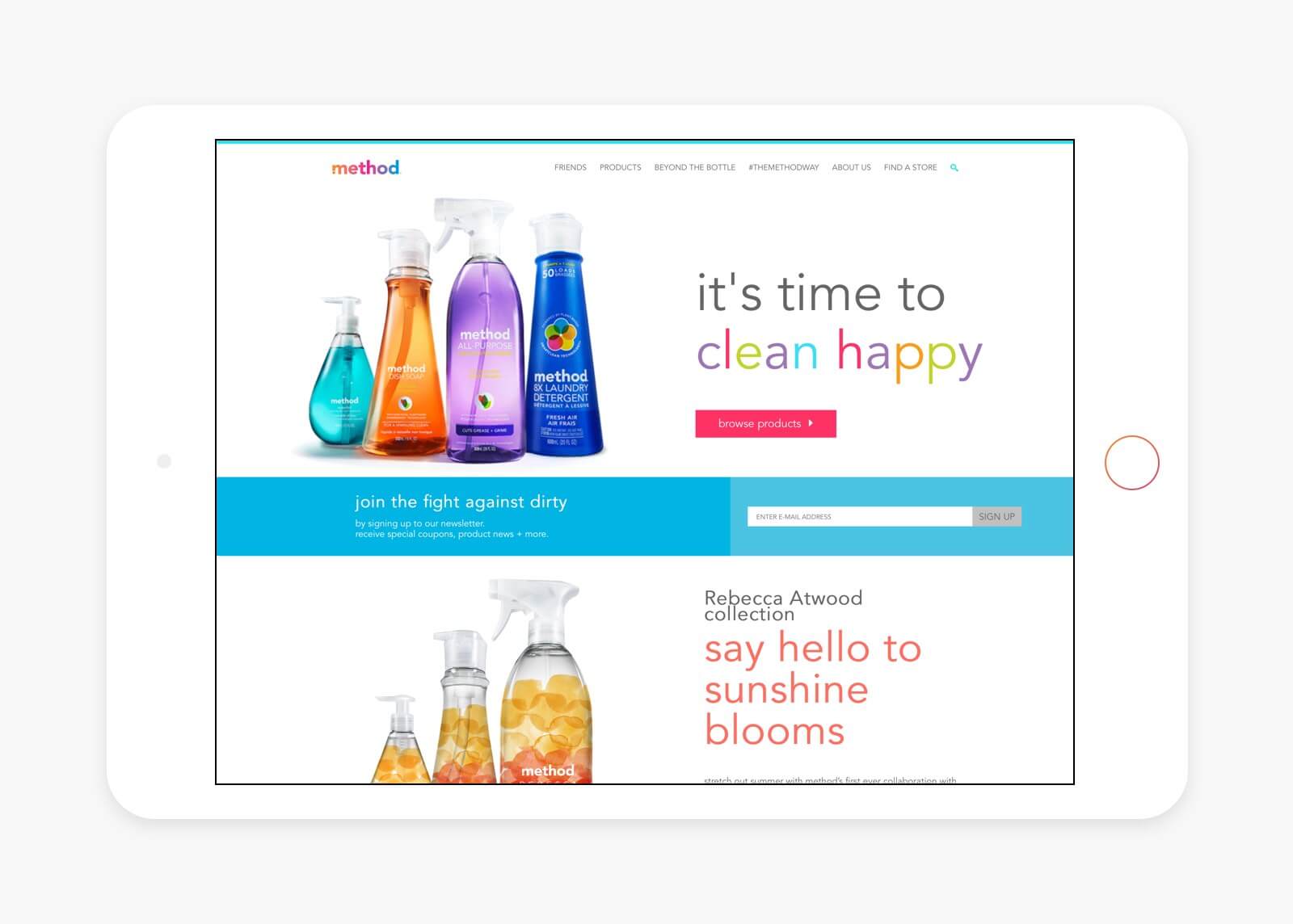 The Brief
We started working with method when they were just expanding into Europe and needed a website for the UK and other countries. A theme for the Method USA website was ready, but this wasn't compatible with a multisite installation. They need help to address this as quickly as possible, to meet their existing deadline.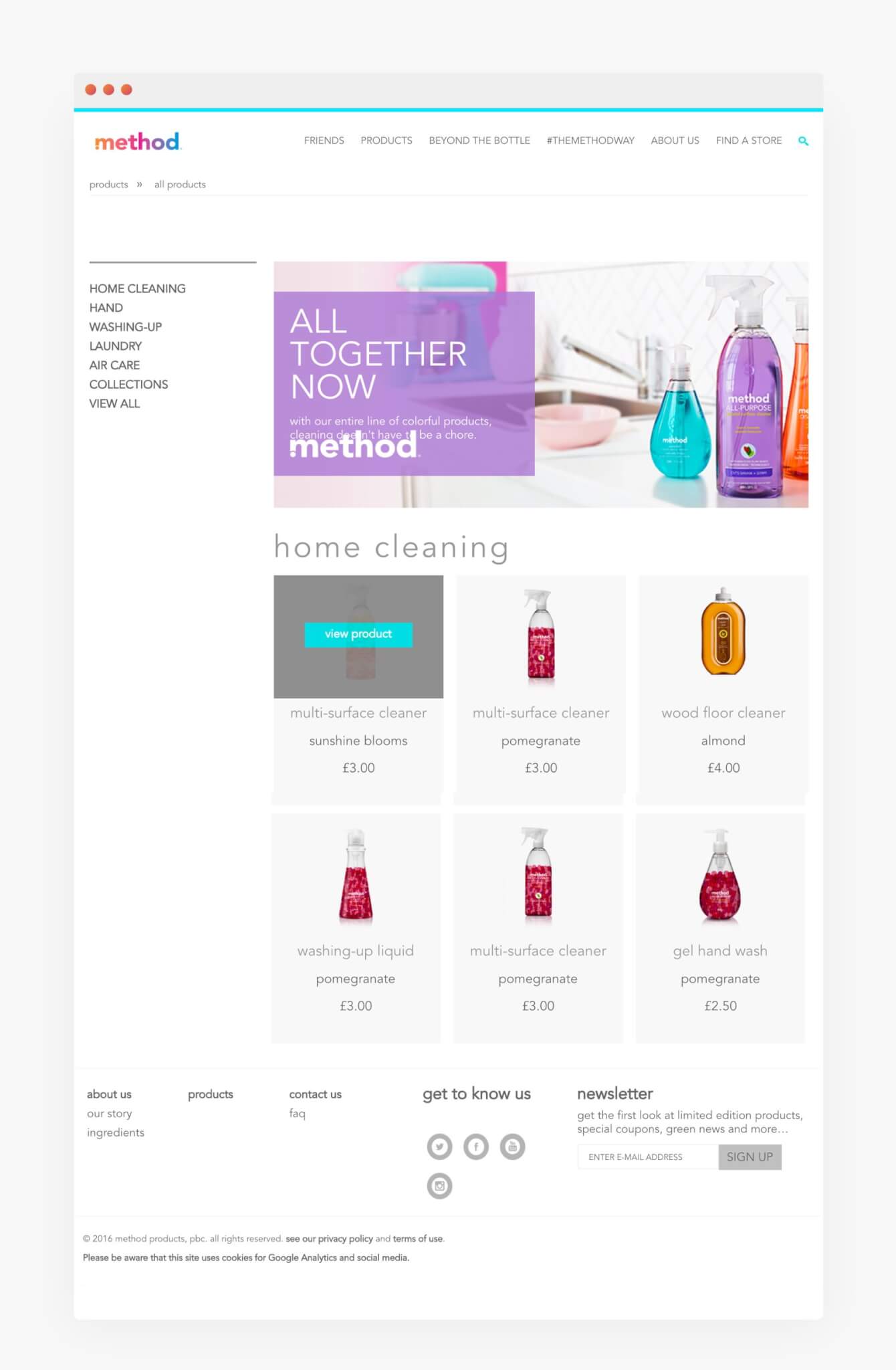 Our Approach
WordPress Multiuser (WPMU). WordPress Website Development. Multi-language website. Hosting Support. Maintenance
Our team worked fast to provide a solution, which was achieved by converting the provided theme to a multi-user installation. We then made sure the site could support multiple languages by adding the the WordPress multilingual plugin (WPML).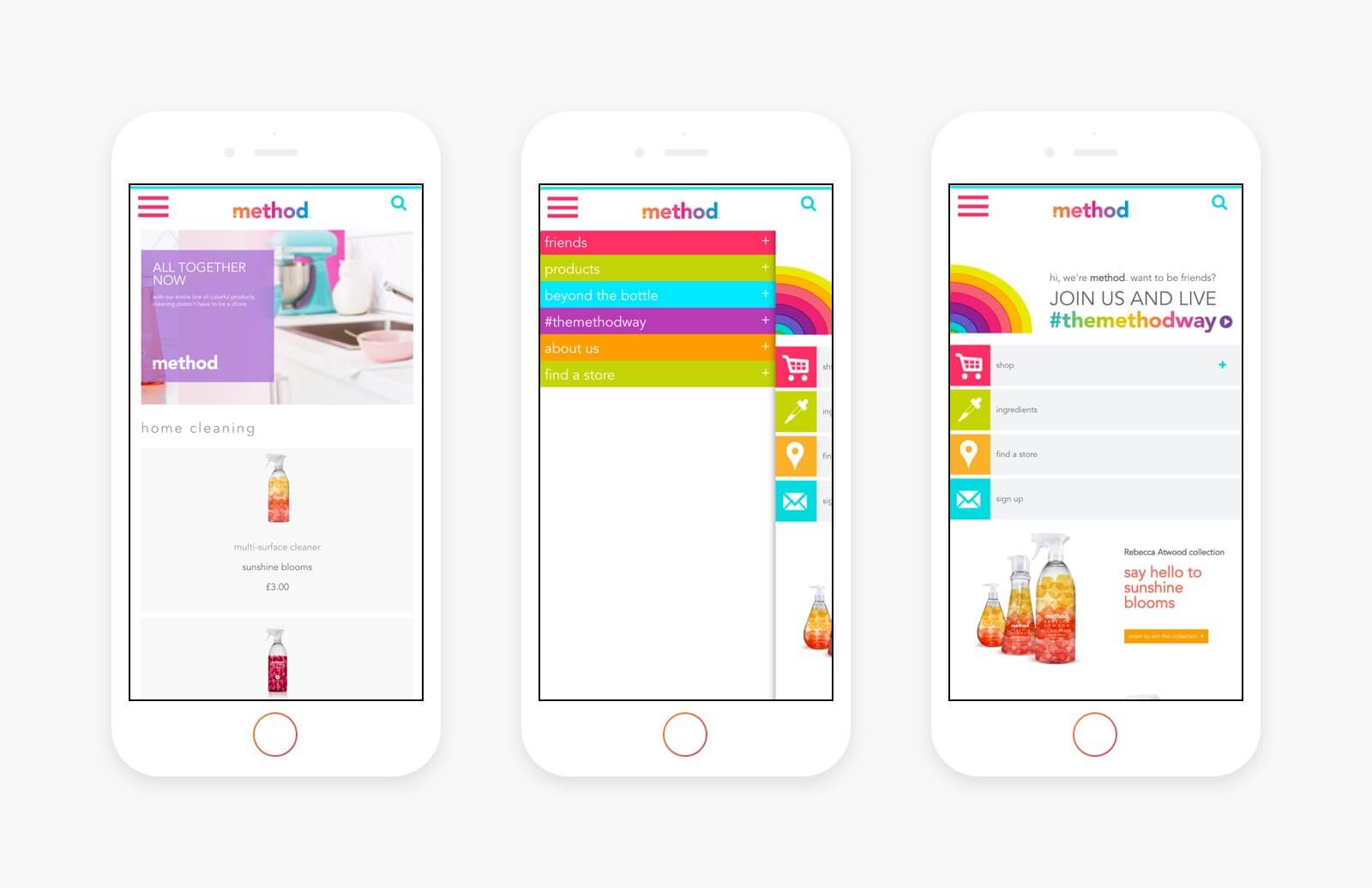 The Results!
We launched the site in record time, with all of the changes implemented. Since we completed this initial website, we have worked with method on several related projects including a competition landing page, Facebook and social wall and an interactive store locator. We also provide ongoing hosting and maintenance.
partnership
We have worked together with Method on some amazing projects
Johanna Basford
Johanna Basford, the 'queen of colouring' worked with method, celebrating colours the #themethodway. she's drawn three delightful designs for the next limited edition launch in January. We created a campaign where fans were able to vote for their favourite design. The winning design (Hummingbird Garden) was chosen after about 10 000 votes. This three stage campaign, the voting stage, announcing the results, and launching the product had a continuously developing design and layout, resulting in a rich, custom campaign with high engagement.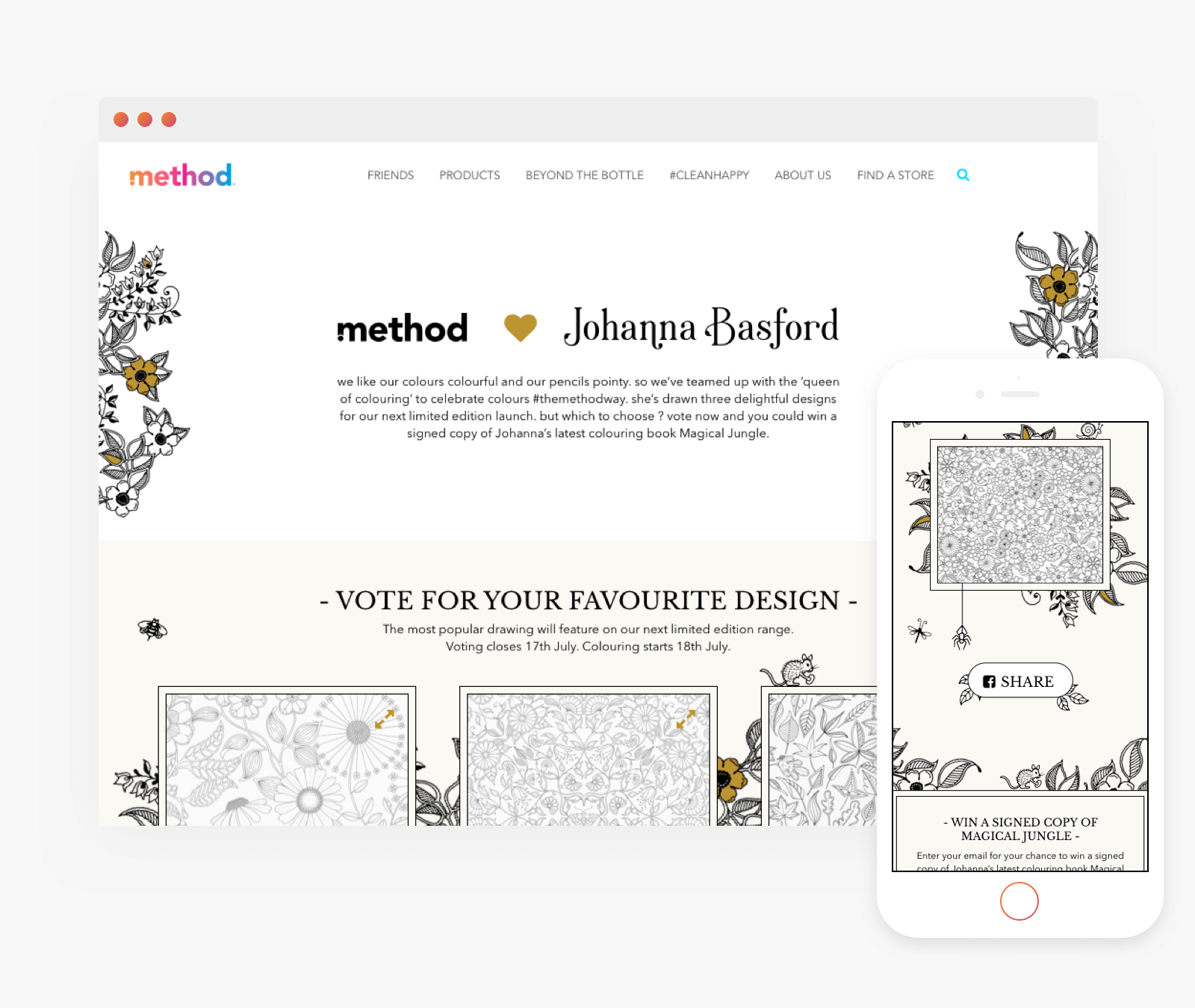 view campaign
Deliciously Ella
Method was delighted to be working with leading food blogger and health guru, Deliciously Ella. As a champion of all things healthy, Ella shares our passion for natural cleaning. her clean living philosophy is reflected not only in the recipes she creates, but also throughout her home. We created an online campaign, featuring Methods limited edition pomegranate collection.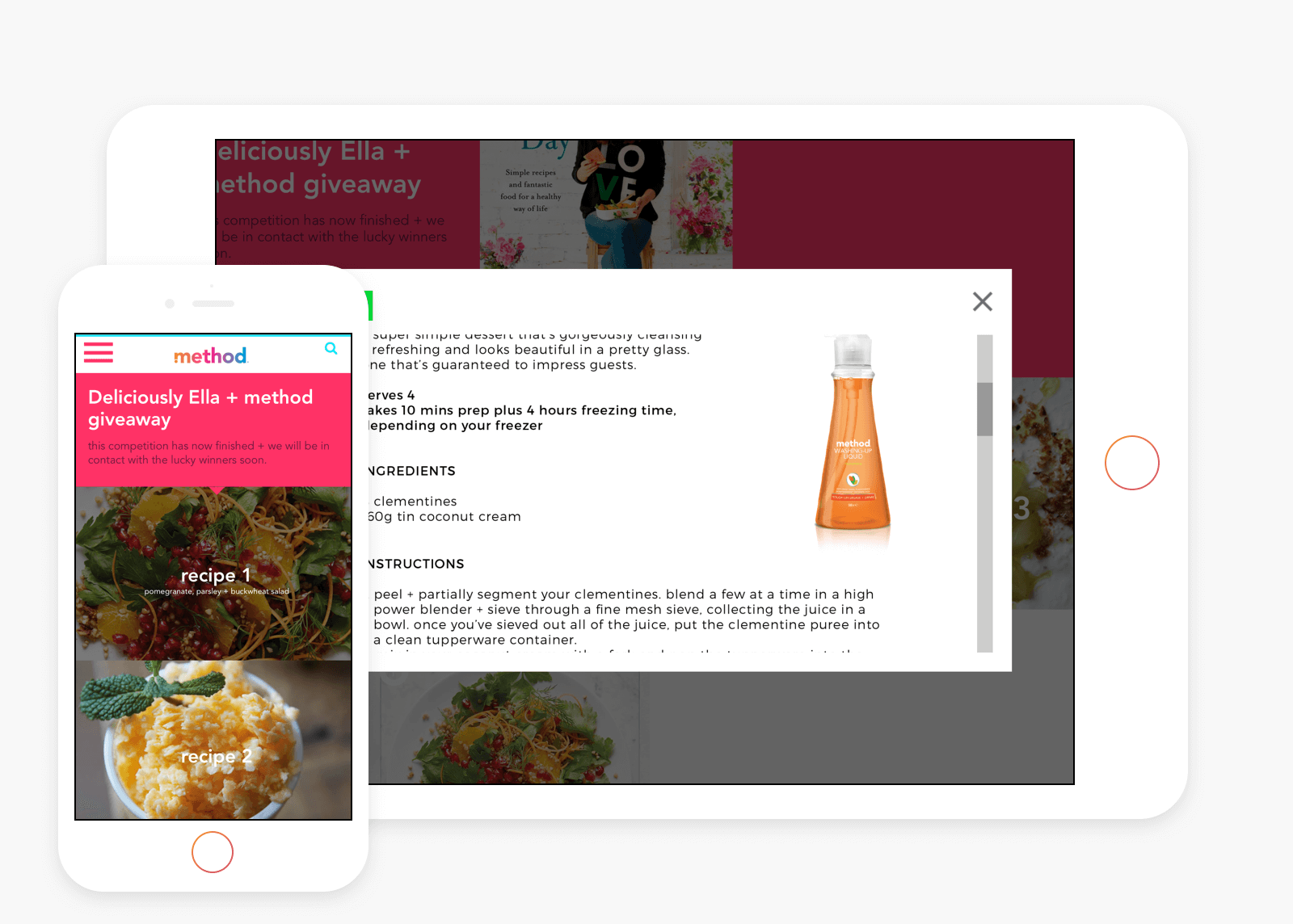 view campaign
"
Wholegrain have been key partners for me and the team as we looked to drive efficiency moving to a WordPress platform and deliver an efficient roll out of a new European website for method. Super helpful, friendly + professional, perfect combination.
Peter Rosier, Digital Marketing - Ecover and Method
Like what you see?
Let's talk!
or email: eat@wholegraindigital.com